hero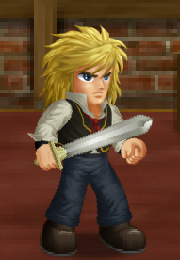 Leo
is a swordman from the
State of Dragon
, the brother of
Lucas
and
Yaga
's favourite student. His fighting style is similar to Lucas', just more powerful.
Description
Edit
Leo is a serious and tough guy, in personality and power. Even the Phoenix admitted that he is very strong that they kidnapped him so he can be controlled with Sinan's dark magic.
Leo seemed to have a good brother relationship with Lucas, as Lucas was very emotional when he was kidnapped. Fellow apprentice Eason seemed to develop jealousy to him being Yaga's favourite and the next on the throne of Dragon. He and Jenny are seen together a lot, hinting presumable special relationship.
Please add other relationships with other characters!
Main Article : Hero Fighter Story Plot
When the Hero Fighters came to the Temple of Hero to warn about the Phoenix attack, Leo and Jenny were the first people they met in front of the temple. Leo commanded Jenny to bring Lucas for medical treatment, while he would hold the Phoenix. After defeating Titto in ease, he was matched with Iczzy, the powerful Big Three, and was defeated. As soon as the Phoenix invasion ended, it was revealed that Leo had been kidnapped. Consequently, Lucas was very angered and sent himself to save Leo. Whereas in the Phoenix prison, Leo was used for experiment with Sinan's magic. When the Hero Fighter reached the prison, they were surprised that Leo was brainwashed by Sinan and attacked them. He came back to normal after Sinan retreated, but later the Big Three picked him up.
The Big Three brought him to somewhere in the Phoenix Kingdom, while the Hero Fighter disguised as the Phoenix to get him back. He tried to trick the Big Three so he could take the Sword of Hero which was stolen by Iczzy. When the Hero Fighter managed to poison Raye and Heater, it was the perfect opportunity for him to escape, but he sacrified himself to let the others go with the Sword of Hero, since Iczzy was still conscious. He was defeated by the Big Three, who left him undead so he could be used for the future.
Leo is widely considered as 'stronger Lucas', since the fighting style is basically the same, just with more power. He is probably one of the strongest person in the Dragon considering him being Yaga's favourite and the next person in the throne of Dragon. However,he is usable in 0.7 in a premium character.
The shipping between Leo and Jenny is popular among fans.
This article is incomplete, please complete and add pictures!
LEO:WELL THANKS YOU VERY MUCH CREATOR OF THIS WIKI YOU VERY GOOD FAN AND I THANKS YOU GOOD BYE...
Community content is available under
CC-BY-SA
unless otherwise noted.